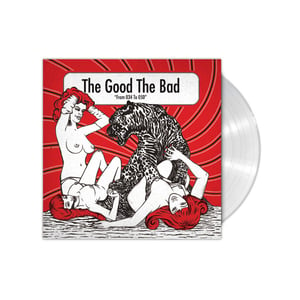 £

17.00 - On Sale
The Good The Bad's third album 'From 034 To 050'
Cat no: TGTB003
Limited edition WHITE 12" vinyl with free MP3 download card.
"There is a huge range of interesting ideas expressed in this album, which makes it very enjoyable to listen to." 4/5 stars (www.aaamusic.co.uk)
"The Good The Bad have won me over. 'From 034 To 050' is out on CD and vinyl now. This is music made for impressing your friends with. Danish surf-western instrumental psychedelic rock." (www.wewritelists.com)
Now shipping!
Featuring 17 tracks. Here's the full tracklisting:
034.......... 1.58
035.......... 2.14
036.......... 1.52
037.......... 2.49
038.......... 2.37
039.......... 1.35
040.......... 0.35
041.......... 2.24
042.......... 2.27
043.......... 2.10
044.......... 0.44
045.......... 2.34
046.......... 2.18
047.......... 0.33
048.......... 1.26
049.......... 2.13
050.......... 1.30